Now that I'm getting up in the night with baby, I've been getting my house show fix on at 3 in the morning.  It's kind of the perfect time to watch television all by myself (well, I guess baby is there too, but I sense a silent approval).  I have all this inspiration, but I barely shower anymore so I doubt I'll be getting to any home renovations projects any time soon.  In the meantime, I've gone to the internet with help on fun ideas for foster care bedroom designs as an outlet.  These room ideas all come from an online foster parent group, so these are all real, lived in homes.
Neutral Grays
This foster mom went with a neutral color palette.  If she has a girl, she adds a pop of coral to the mix.
High Fashion
I love that this room doesn't cut corners on style just because it's a kid's room.
Jeremiah 29:11
This is a wonderful scripture to have hanging over baby's crib.  You can click on the link below to order one for your nursery!

Bible Verse Organic Baby Swaddle (Jeremiah 29:11)
Woodland Creatures
There's nothing more adorable than a nursery with woodland creatures.
Rustic Bedframe
I never knew I could love a cactus design so much as I do in this room.  The simple, rustic bedframe also sells it for me.
Organized Bedroom for Two
This room features a dark brown pegboard instead of the traditional bulletin board.  Crate toy bins and open shelf storage makes this a cosy room for two toddlers.
Homemade Decor
This wall decor/night light is made with Ikea flower lights with the cords braided to look like stems.  Construction paper stems and planter gives it the finishing touch.
Vinyl gutters from your local hardware store can be used to create cute and affordable book shelving.
A Pop of Pink
This girls' room packs a lot of glam into a streamlined design with fun wall hangings.
Adventure Themed Kids' Rooms
T"Our age range is broad 0-8 and we're open to either gender and siblings so these are our 2 rooms. Crib converts to toddler bed. Our daughter has a travel theme so we went with adventure themes for all."
Bunk Bed with Trundle
This is the ultimate space saver.  It's an adorable bunk bed with a trundle, so it can sleep 3 children in the space of one.  Before today I didn't know these existed, and now I'm obsessed.  If you're handy, you can use Ana White's plans to build your own here.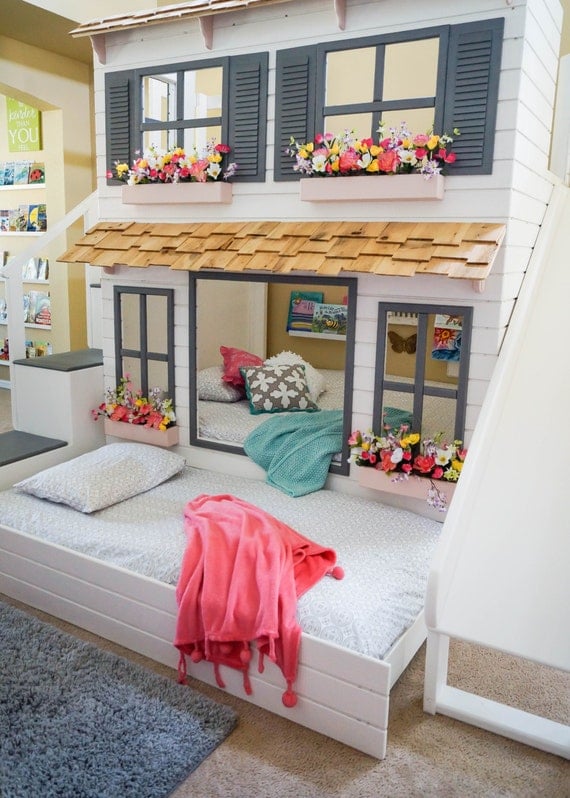 Two Lofted Beds
A similar set up would be two lofted beds with room for one or more beds underneath.
Gray and White Stripes
I can't resist a striped accent wall.  This room is ready for a wide age range or a little of both!
Gender Neutral Green
Most gender neutral rooms are gray and white, but this room stuns with a vibrant green.
Blues, Grays, and Yellow
Geometric Accent Wall
This gender neutral accent wall gives the room a little flair.
Cozy Nursery
Our attention is drawn straight to the beautiful flooring in this nursery.  The "Now I Lay Me Down to Sleep" prayer hangs over the crib.
Dr. Seuss Room
A lot of love went into a hand painted Dr. Seuss room.  I'm feeling the magic!
Homemade Bunk Beds
I love the darker wood railings on this homemade bunk bed.  The lights are a great addition for reading in bed or for children that are afraid of the dark.

Staircase Going to Children's Rooms